Please Note:
Since Canada decided to participate at the World Championships, Canada has now adopted the international rule of face-off. Starting September 1, 2003, all games in Canada should use face-offs to start a game at the beginning of each period, after each goal and after the referee has stopped the game with no team committing a fault.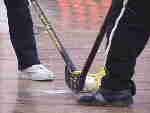 Unihockey face-offs
are different than
ice hockey face-offs
Unihockey face-offs are different from ice hockey face-offs.
Both players face each other with their feet positioned parallel with the centre line.

The ball is squeezed between the blades of the sticks.

The grip on the shaft may not be reversed (thumb up the shaft) and may not be lower on the shaft than the marking (this rule is valid during the whole game, not just for face-offs).

All other players are at least 3 meters away, with all parts (including the stick) of their body.

The referee starts the game by blowing his stick.
(This rule change is not included in the rulebook below)
---
Click here for the latest edition of the complete
Canadian Rule Book


Phone (780) 906-6695

Rule Handout

Unihockey is meant to be a truly offensive game, enjoyable and affordable for everyone. To create enough space for creativity many defensive actions are not allowed. Hereís a quick overview.


Mostly the game is restarted with a Free-hit or a Hit-in.
* * * * * * * * * * * * * * * * * * * * *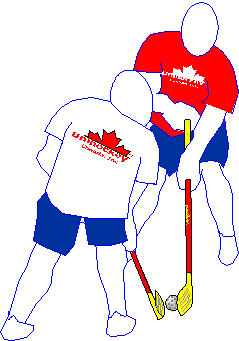 The game starts with a Unihockey Face-off.
Two players face each other and start on the whistle
* * * * * * * * * * * * * * * * * * * * *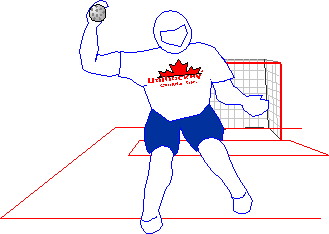 Throw-out
The goalie has no stick, and starts the play with a throw-out. The ball must bounce before the centre line.
* * * * * * * * * * * * * * * * * * * * *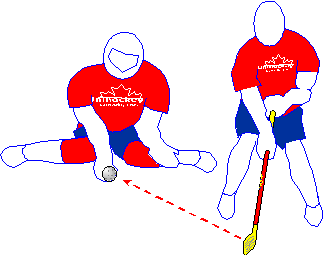 No Pass To Goalie
When youíre forechecking itís not fair if the defenseman can give the ball to the goalie.
* * * * * * * * * * * * * * * * * * * * *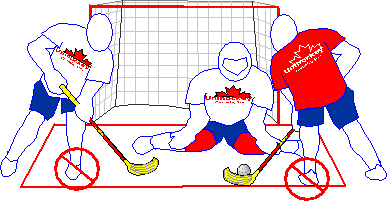 No Fieldplayer In Goalkeeper Area
This area belongs to the goalie alone.
Players on both teams, stay out!
* * * * * * * * * * * * * * * * * * * * *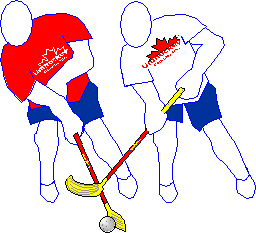 No Stick-Check
The stick can only be used to play the ball. Hacking and whacking on the opponents stick might only break it and cause injuries.
* * * * * * * * * * * * * * * * * * * * *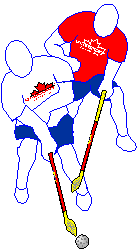 No Contact With Stick
You wear no padding, so even an accidental hit might hurt. So control your stick at all times.
* * * * * * * * * * * * * * * * * * * * *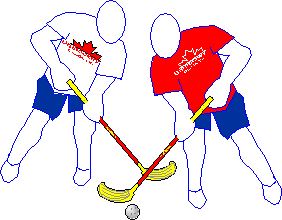 No Stick-lift
Since youíre not aloud to wear gloves, you donít want anyone to lift your stick and by mistake break your finger.
* * * * * * * * * * * * * * * * * * * * *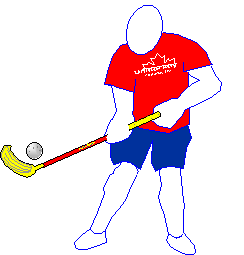 No High Stick
Regardless if your using your stick, knee or foot, the ball can only be played under knee level.
* * * * * * * * * * * * * * * * * * * * *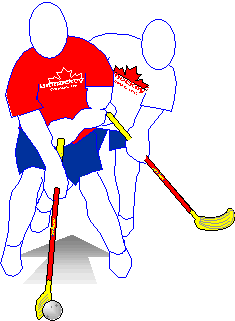 No Pushing
Do you want to push and shove? Join WWE!
* * * * * * * * * * * * * * * * * * * * *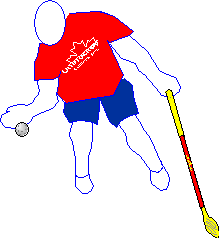 No Hands
You canít use your hands to play the ball.
If itís lower than your knee, use your stick. Otherwise, let it go.
* * * * * * * * * * * * * * * * * * * * *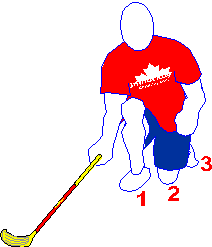 Max. 3 Body Parts
may touch the floor
This makes the game faster and more open.
No jumping!
* * * * * * * * * * * * * * * * * * * * *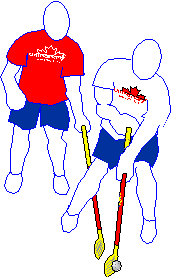 No Stick Between Feet
This gives you offensive freedom to roll off the checker at all times.
* * * * * * * * * * * * * * * * * * * * *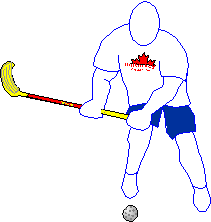 No Slap Shot
Work on your wrist shot, and youíll be able to shoot the ball quicker and almost as hard. Slap shots might only damage your stick.
* * * * * * * * * * * * * * * * * * * * *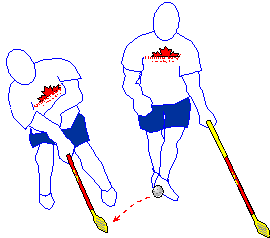 No Kick-pass
You can only kick the ball one time and only to your own stick.
* * * * * * * * * * * * * * * * * * * * *
Sticks may not be curved
* * * * * * * * * * * * * * * * * * * * *

info@unihockeycanada.com www.unihockeycanada.com