Unihockey Canada, Inc
phone:
(780) 906-6695
(Franšais/English)

Canada will participate at the World Championships
Canadian Unihockey/Floorball Federation's president, Mr. Morris Glimcher, recently announced that Canada will send a men's national team to the world championships in Madrid, Spain. The tournament will take place, April 19-25, 2004, and the Canadian team will consist of players from Alberta, Saskatchewan, Manitoba and Ontario. Presently a group in Quebec have also plans to join the pool. Bjorn Kinding will be the head coach, assisted by Johan Osterman from Sweden and Lisa Schwann from Saskatchewan. Bjorn is a former Olympic ice hockey coach, and Johan is a former elite unihockey player in Sweden.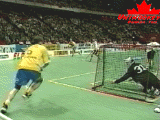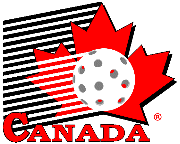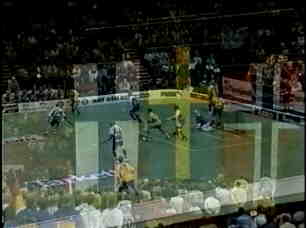 Canada, a first time participant, will start in pool C and play against the hosting country Spain, Belgium and France, in Group B of the tournament. Group A consist of Japan, Malaysia, Georgia, and Slovakia. The winning team will qualify for 2006 B-pool. This means that Canada, could at the earliest, play in the World's A-pool in 2008. The A-pool is the World's elite tournament. The games are played in sold-out stadiums (15,000 spectators) and are watch live in TV by many more. This year's A-pool will be played in Switzerland, where the favorite teams come from Sweden, Finland, Czech-Republic, Russia, Switzerland and Norway. USA is playing in the B-pool.
Are you interesting in learning more about the Canadian National Team program, please contact Mr. Morris Glimcher.
Coming Events:
World Championship 2004
in Madrid, Spain
and Zurich, Switzerland
World Women Championship
2005
in Singapore